Charlotte Literacy Summit is April 22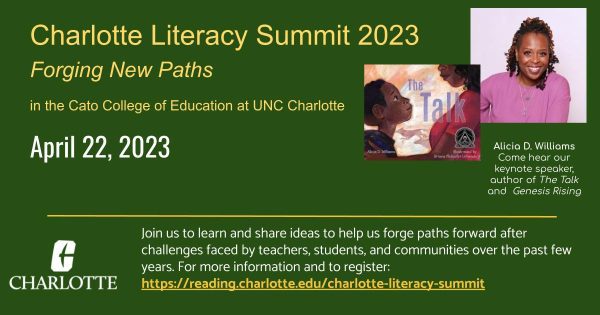 UNC Charlotte's Cato College of Education is hosting its second Charlotte Literacy Summit on April 22, 2023. The Literacy Summit 2023 is a space for literacy educators and stakeholders to meet and share ideas to help us forge paths forward after challenges faced by teachers, students, and communities over the past few years. The Summit will include a morning of conversation and workshops followed by lunch featuring a keynote speaker, Alicia D. Williams, award-winning author of Genesis Begins Again, The Talk, and Jump at the Sun: The True Life Tale of Unstoppable Storycatcher Zora Neale Hurston.
The summit will be open to educators and is free of charge with a maximum capacity (around 125 participants). Lunch will be provided at no cost and a book from our keynote speaker, Alicia Williams, will be given to each participant.
We have sought input from teachers and literacy leaders in our network and have developed a theme to communicate the challenges faced by literacy educators including changing curricula and post-pandemic needs of students: Forging New Paths. The summit will include workshops, discussion and networking organized around three strands:
Elementary educators
Middle and secondary educators
Teacher education and educator professional development
Submit a Presentation Proposal
We are seeking proposals for the 2023 UNC Charlotte Literacy Summit. If you would like to present at the 2023 summit, please fill out this form. We offer suggested topics for elementary, middle/secondary, and preservice teacher education.
Register to Attend
The Charlotte Literacy Summit is free but requires registration which is limited to 125 participants so SIGN UP TODAY by completing the Registration Form.